Clock
About Me
Name: TEC 09
Home:
About Me: We provide the platform for graduating student to embrace their career.
See my complete profile
Previous Post
Archive
Link
EMPLOYMENT READINESS: VIDEO RESUME WORKSHOP BY MY PATH
Wednesday, March 11, 2009
Tentative: 9am - Registration

10am-12pm - Video Workshop

2pm-4pm - Video Clinic

Venue:D3, POCKET D

Saturday, 14th March 2009

Certificates and listing in web portal included
posted by TEC 09 @ 9:12 AM

Interview by PETRONAS
Monday, February 16, 2009
Labels: INT
posted by TEC 09 @ 11:17 PM

Important Announcement from INTERVIEW Department.
Sunday, February 8, 2009
12.14pm || February 9th, 2009
What is Career Talk???
We invited several companies from various bases and background to give talks in UTP. These talks will help students in their interview preparation as well as getting clear view on the engineering, technology fields, current economy situation and its complication to certain fields such as Chemical engineering, etc. Aside from the talk will also focus on the steps to pursue studies at higher level (Master's or PhDs) locally or abroad.
So far the confirm talks are:
1.
Kuala Lumpur Kepong Berhad
- 11th February 2009
2. Jabatan Perkhidmatan Awam

- 18th February 2009
3. MDeC

- 11th March 2009
4. RNZ Integrated

- 1st April 2009
5. IC Microsystems
- 8th April 2009
More talks will be conducted throughout February until April 2009
How will the interview be conducted???
1. Walk-in interview
Any student can attend the interview regardless of their results, scholar. We will make an advertisement and notification for companies who are interested in walk-in interviews. Those who are interested to join may register your name and details at a place that will be announce later. BE PREPARED and bring along your resume with you during the interview.
2. Short-Listed Interview
Some companies might only want to interview the students with certain criteria such as CGPA above 3.00, non-PETRONAS scholar, etc. We will sort out the students who submit their resume to us based on the criteria requested and send them to the particular company. They will short list the candidate and inform him/her to attend the interview for their placement.
Interview also conducted throughout February until April
So come on students, we need you to
submit your resume to the career advisory unit (JPSP) before 13th of February 2009
. One person
may submit 30 copies of the resume
. You may consult our career advisor,
Abg. Idham (016 – 592 9462)
if you have any inquiries regarding your resume or your future career.
Any information regarding career talks, interview and workshops will be announced from time to time. It is our pleasure to assist you for your future career. Therefore we really hope for your support and participation in TEC 2009. Do not hesitate contact person below or email to interview.tec09@gmail.com for any enquiries, suggestions or comments.
"OPPORTUNITY WITHIN UNCERTAINTY"
Kind regards,
AISYAH HASMAD
Head of Interview Department
Technology, Education and Career 2009
Universiti Teknologi PETRONAS
Phone : (019) 437 7814
Gmail : icey.meiay@gmail.com
DC++ V5 : kuikui
MOHAMAD HANIF HASLAN
Assistant Head of Interview Department
Technology, Education and Career 2009
Universiti Teknologi PETRONAS
Phone : (013) 822 6780
Gmail : epun88@gmail.com
DC++ V4 : mike
Labels: Announcement, INT, Post Umum
posted by TEC 09 @ 7:25 PM

Attention!
Wednesday, January 21, 2009
1.07 pm || January 22nd, 2009
To all GRADUATING students, want to know about your future career?

come and join our sharing session,
*" Your career, our Concern"*
with Mr. Nor Idham Che Ghani,
Career Advisor, Career Advisory Unit UTP.

Date : 29 & 30 Jan 2009 (Thursday & Friday)
*pick one slot
Time : 5 - 6 pm
Venue: Pocket D, D3

any inquiries?
contact : Mr. Idham :(05) 368 8431
Aisyah :(019)437 7814

See u there :)


Labels: Announcement, INT
posted by TEC 09 @ 9:06 PM

PMS & Co. SDN BHD
Sunday, January 11, 2009
2.37 pm || January 12th, 2008


Semalam, Prize Merchandise & Souvinier (PMS) dan dibantu beberapa orang yg lain telah bersama-sama menjayakan booth TEC di Chancellor Hall bersempena dengan pendaftaran pelajar baru MAS. berikut adalah laporan yang dilampirkan sendiri oleh wani, S/U PMS.


--------------------------------------------------------------------------------------------------


Krinngg….!!!!

Waa,,,kami kelewatan…Ktrg patut kumpul kat CH kol 7.30a.m.Tp nampaknye hjt x trcapai.Dahla mse smpi tgk booth sblh da setup..xley jadi ni..heheh...Isk2..go2 PMS.!.dgn bntuan Nisa,Kushah,Fiza,Kamal,Amin ngn bbrape committee TEC '09 len we all cpt2 agkt t-shirt yg nk dijual from Mun nye kete.Parent n freshies cam da rmi kt CH ni.. N by 8.15 a.m we all bejaye "menyetupkan" booth kami.

Then bile sume da siap..ape lg..sume smangat la gk knonye nk pomot bju2 ni..Mcm2 rgm parent n adik2 baru ni.Ada yg tgk je,mule2 ckp nk beli…then parent lak ckp.."xpela..lps2 ni abang bli la sndiri k".Tp ade jgk yg tol2 nak bli,al-maklumlah..bru smpi UTP,tgk merchandise ade logo lg, msti la nk kn..Tp design t-shirt quick dry yg kaler merah n putih la yg plg "hot".So korang TECians 09 leh la nk pomot2 kt kengkawan korang k..Selagi stok masih ada..heheh..

Dkt kol 12.00p.m org cam da xramai,booth sebelah pn da ttp, ktrg pn slowly la packing n kire stock n jualan for MAS ni,ok la..we can still improve..Chaiyok2!! n around 12.30p.m we all da siap close our booth n bersurai..Neway,thanks to all man power yg tlg PMS,jasamu dikenang..hehe..


--------------------------------------------------------------------------------------------------


Note:
Certain part of the report was not been edited to reatian authencity. :D
(PMS dan HICOM jgn hukum saya!)

p/s: gambar sudah ada di album. mahu lebey? minta pada dehaq.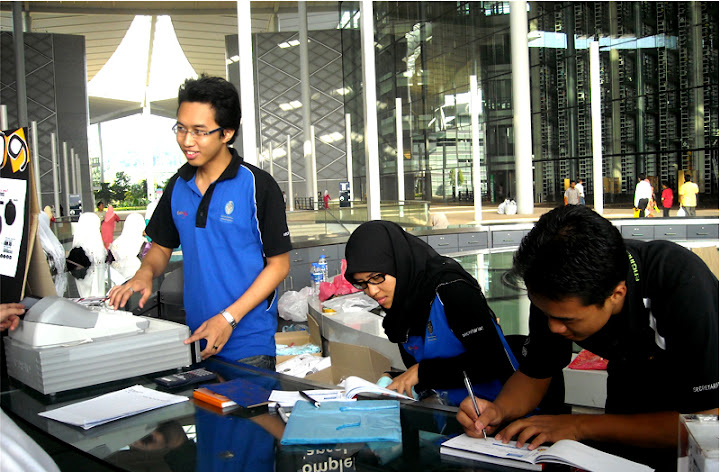 Labels: PMS
posted by TEC 09 @ 9:33 PM

hari keluarga komiti TEC
Saturday, January 10, 2009
4.31 pm || January 11th, 2009

Alhamdulillah, pada minggu lepas, HRM, telah menlaksanakan dengan jayenye family day TEC 09. bertempat di dua negeri pantai timur, Kelantan dan Terengganu. selama 3 hari 2 malam. berikut adalah sedikit tentative pada 3 hari tersebut.





Day 1st - January 5th, 2009



Seawal 4.30 pg, semua ahli komiti berkumpul di kafe v2. setelah mendengar "briefing" dari HRM, kami berlepas, menaiki 2 buah bas UTP, sebelum berhenti untuk solat subuh dan sarapan di R&R Sungai Perak. Perjalanan diteruskan ke negeri Kelantan. Pada hari tersebut, kami ditempatkan di SMS Tunku Muhammad Faris Petra (harap maaf jika salah ejaan) dan bermalam disitu. Di sekolah tersebut, komiti diberi peluang untuk menjadi fasilitator kepada pelajar tingkatan 5. Pelbagai aktiviti yang dijalankan, bermula dari petang hingga malam. Setelah selesai semua majlis, pada pukul 11.30, kami pun tidur.


feedback:

pihak sekolah menyambut kedatangan kami dengan baik. mereka amat mengalu-alukan kami. Dan pelajar-pelajar mereka juga mengambil peluang ini sebaik mungkin. mereka memberikan kerjasam untuk menjayakan majlis motivasi tersebut.




Day 2nd - January 6th, 2009



Setelah solat subuh dan sarapan, kami berkumpul semula menaiki bas untuk ke destinasi seterusnya;Angulia Beach House Resort di Marang. Sebelum sampai, kami singgah di Pasar Payang di Kuala Terengganu untuk shopping dan makan tengah hari. setelah tiba di resort tersebut, kami dibenarkan untuk check in. dan mengemas diri untuk solat zohor dan asar. Resort tersebut terletak bersebelahan dengan pantai. kemudahannya juga "tip top". Pada waktu petang, HRM menjalankan sedikit aktiviti sukaneka antara ahli komiti. dan pada malam hari, setiap department membuat persembahan dan berehat selepas itu.


feedback:

keseluruhannya, persembahan oleh tiap-tiap department memuaskan. selain dari itu, persembahan nyanyian solo oleh Khafif dan beberapa orang lagi turut mendapat perhatian. dan majlis diakhirkan dengan nyanyian selamat hari lahir dari semua kepada shima. kerana hari jadi beliau adalah pada 5hb Januari. dan selepas itu semua beredar untuk supper.




Day 3rd - January 7th, 2009



Selepas solat subuh dan sarapan, kami berkemas untuk pulang. tapi ada segelintir yang mengambil peluang untuk mandi mandai di pantai pada pagi tersebut. selepas check out resort, perjalanan diteruskan ke kerteh. Makan tengah hari di Mesra Mall sebelum meneruskan perjalanan ke Polyethylene Malaysia SDN BHD. sebuah anak syarikat PETRONAS. Di sana, kami diberi peluang untuk mengetahui dengan lebih lanjut tentang polyethylene dan melawat tapak "plan". Selepas minum petang dan solat asar, kedua-dua bas bertolak pulang ke tronoh. Sebelum itu, kami sempat lagi untuk singgah di Kuala Kemaman membeli keropok lekor. Lebih Kurang 4 pagi, kami tiba semula di UTP.


feedback:

pihak polyethylene menambut kedatangan kami dengan baik. dan banyak yang diperolehi disitu. mudah-mudahan, ilmu yang dipelajari dapat dipraktikkan di masa hadapan.



sekian sahaja untuk laporan yang tak seberapa ini. terima kasih.

p/s: klik "foto" diatas (sila rujuk pada kedudukan di atas banner blog) untuk melihat gambar2. Mahu gambar lagi? request pada dehaq. sekian






posted by TEC 09 @ 6:07 AM

sepak mula TEC 09
Sunday, January 4, 2009
5.36 pm || January 4th, 2009


anjuran : Jabatan sumber manusia dan usaha sama beberapa pihak,
lokasi : di Dewan Kuliah 1,
tarikh : 3 Januari 2009, 9.30 mlm
durasi : 2 jam

Sepak mula (kick off) ? adelah satu majlis dimana semua komiti di kumpulkan untuk berkenalan antara satu sama lain. Dan objektif itu berjaya dicapai malam semalam. semua ahli komiti diberi peluang untuk mengenalkan diri masing2. selain itu, majlis ini adalah satu simbolik untuk memulakan kerja TEC secara simbolik. hampir kesemua komiti menghadirkan diri menjayakan majlis tersebut.

Dimulekan dengan kata-kata aluan dari hrm, bacaan doa oleh hasmadi hasbi (treasurer) di ikuti oleh persembahan montaj oleh pnp (percayalah tiada unsur "bias" disini). dan sesi perkenalan yang ditunggu-tunggu.
setelah selesai sesi tersebut. hrm memberi "briefing" yang berkaitan dengan family day nanti sebelum majlis diakhiri dengan sedikit jamuan ringan. (terima kasih fnb). masing2 beransur pulang bermula pukul 11.15 malam.

Diharapkan, dengan berakhirnya sesi kick off semalam, ahli komiti sudah dapat mengenali satu sama lain. internal bonding is the most important element in handling an event!.
posted by TEC 09 @ 2:27 AM

Career Talk
Career Talk by :
Multimedia Development Corporation
Title : ICT as Career Of Choice

Date : 11th March 2009 (Wednesday)

Time : 2.30 pm – 5.00 pm

Venue : Lecture Theatre Pocket C, C7
This talk will give an overview of the various ICT career choice that a student can explore their career into. This talk also dismiss the misconception that ICT degree offers limited career option.
Students from all discipline are invited especially for intership and graduating students.
COME AND JOIN US
Interview
Interview by :
PETRONAS
PETRONAS will conduct a structured interview.Here are details regarding PETRONAS structured Interview
Compulsory tO ALL PETRONAS SCHOLARS Final year Final Semester students
Please bring along your latest CV, IC, academic/Professional certificate (degree scroll, academic transcript, SPM certificate), and passport sized photograph. Kindly make copies for the documents and bring along the original.
19 FEBRUARY 2009
Briefing
4.30 pm
LH 1
Local & International Students
20 FEBRUARY 2009
Interview
8.00 am
Block B
Local & International Students
21 FEBRUARY 2009
Interview
8.00 am
Block B
Local & International Students
Workshop
Job Interview Workshop
Interview Workshop is held with a purpose to guide our future graduates to prepare themselves for their career interview. Students will be exposed with many inputs regarding the subject matter and with some demonstration (mock interview) to give them a better understanding and experience. Experienced speaker from industry and companies will assist them and share their experience regarding the interview session.
LH 1 || 1st March 2009
Objectives: br>
To demonstrate the right procedures and protocols while attending an interview.
As an early preparation especially for final year students before attending interviews by companies.
Highlights the career categories found in engineering and technology future prospects.
Guide the students in making the right selection of suitable career prospects based on their personal characteristics and interests
Tentative: br>
0900 - 1100 am Talk by Agilent Technologies
1100 - 1300 pm Talk by PETRONAS
1300 - 1400 pm Lunch
1400 - 1530 pm Talk by Shell Malaysia
1530 - 1700 pm Talk by Exxon Mobil
Certificate, Meal, Seminar kit Will be provided
For those who interested to join the Interview workshop may register yourself with Mr. Jailani at career advisory unit, JPSP, Pocket D.
Fee : RM 15 only!
shoutout!
TEC 09 faces
Powered by